MultiSit in detail
MultiSit is a very simple, durable & efficient public seat that makes money on advertising. Its 3 basic functions are - sitting, fencing, advertising.
Sitting
Elegant, maintenance free and effective sitting arrangements for public and business areas. Made for a short time seating and safe use. Emphasis is put especially on keeping the streets and surrounded areas clean and elegant, also creating an additional, long lasting infrastructure.
Fencing
When arranged in a row, MultiSit serves as an efficient and message caring fence, easy to direct pedestrian traffic to specific locations. Convenient for places that have been previously unable to offer seating due to the lack of space. Possibility of using an illuminating feature to light up the areas of interest at night and also as a visible indicator of paths and barriers.
Advertising / Announcement Medium
MultiSit offers new advertising surface with elegant and creative finish. Unique approach to advertising imagery is encouraged with a creative seat positioning. MultiSit's innovating and contemporary designed advertising surface is weather protected and stores no waste.

The seat can be folded down to both sides, with a possibility to lock up just to one side according to space and advertising requirements.
150kg / 330.69lbs load-bearing capacity
Tested for child safety, TÜV certified.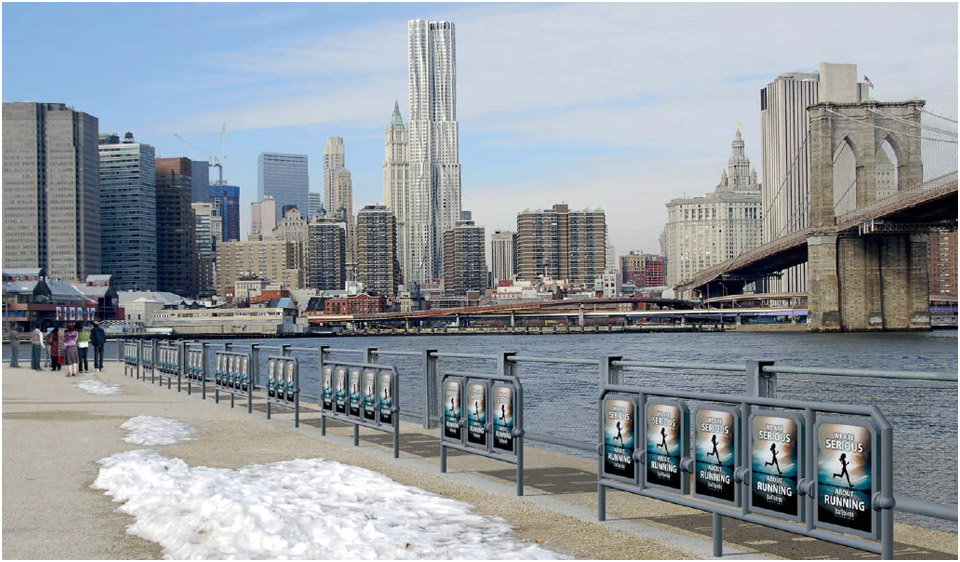 Rotary Joint
The materials used for the maintenance-free MultiSit proved to be unbeatable in any weather and resistant to natural damage. They offer corrosion protection and durability. Strong rotary joints are made of die-cast aluminum AISiMg7.
MultiSit Materials
Pipe and Profile Frame
Black steel galvanized with textured powdercoat proved to be the MultiSit material of choice and efficient durability. RAL color selection transforms the MultiSit surface according to your specifications.
(*high quality stainless steel, can be used as a more expensive alternative to black steel)
Sitting Area
Filled with a transparent polycarbonate sheet which is heat and impact resistant. Advertising interior is formed by a robust core of Porocell glued onto aluminum sheets.
RAL Color Choices
Official RAL Color System of many choices is used for defining standard colors for paint and coating.
Although an Anti-Graffiti Coating System has been tested for MultiSit as an additional protection feature, every day experiences proved no need for an extra cost.
Available Colors
We are able to produce Multisit in any of the RAL colors according to customer needs.